Add Value to Your New Auto Auction Car Easily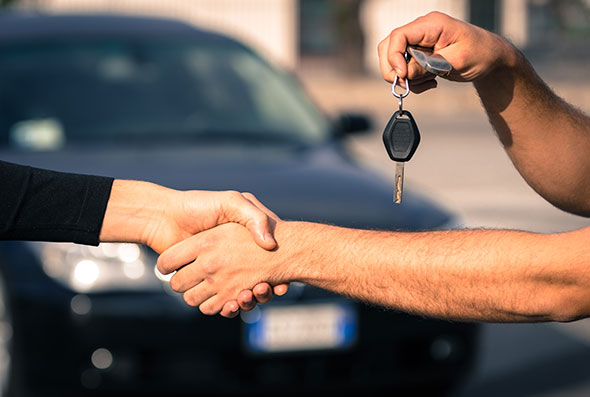 So you have done your research. You have chosen the car you want and then found it coming up for sale at your local auction facility. So you go along the auction, you register to bid. Your car comes up for sale, you put your hand up to bid. The auctioneer calls "First! Second! Third and final call! Sold!". You realize you are the winning bidder. You have done it. You have bought your next car for a lot less than you would have from a dealer. You are not the first and certainly won't be the last – many, many people have done it and will continue to do so.
When you buy a vehicle at an auto auction it comes "as is". That means that whatever condition it is in (good and bad) is how it is when you take possession. That is why there are such good bargains to be found at car auctions. If you use the inspection times to view the vehicle prior to auction then you know exactly what you are buying and what to expect – there are no surprises.
There are a few things you can easily do to bring your vehicle back up as close as possible to brand new. Here are is a list of cost effective ways to bump up the value of your new car without breaking the bank.
Get to know each other
Sure your excited with your new wheels and want to take it for a long cruise straight away, but spend some time getting to know your car first. You don't want to be distracted while driving when trying to figure out how the audio system works or the active cruise control. Taking the time at the start will improve your enjoyment and safety.
Lube Up
Getting your mechanic to give the car a service is a good place to start. Most vehicles sold at auction some with documented service history so you should have a good idea of where the servicing is at and if it is due. If you don't want to spend the money you saved at auction on a service right away then at least check all the oil and fluid levels of the vehicle. If you haven't done it before then under the hood most of these are colour coded to make it is easy to identify. The Owner Manual (yes you may need to read it!) will also be really helpful. If anything is low (oil, coolant, even window washer fluid) then go to your local auto shop and pick up some quality goods. Use good quality oils and fluids and your car will love you for it.
Give the "Duco" some love
You will not know where and how the car was stored before you bought it – and it doesn't really matter as you know the condition before you bid. But a simple cut and polish will be worth the effort for the exterior paint of the car. The "cut" cream has "cutters" in it which essentially (safely) removes some of the clear coat in order to remove defects and contaminants in the paint. Then polish to restore the shine to the duco. Cut and polish products can be bought relatively cheaply at your nearest auto shop and the value and appeal it will give to your car will be well and truly worth it.
Leather appeal
If your car has leather interior then it will be worth giving it a clean and condition. Again purchase leather products from your auto store which are suitable for cars. Always test on a small patch first, but once you properly clean and then condition the leather it will improve the wear and longevity of the leather for many years to come. If your car has fabric upholstery then a simple shampoo using the equipment at your local car wash should do the trick. Consider installing some seat covers as these will certainly prolong the life and condition of your seats.
Tire Wise
Check the tires for cracks or damage, and of course replace if they are low in tread. But just a quick layer of black tire paint around the outside of the rims will give your car that show room finish to match the other improvements you have made. Check the air pressure of the tires while you are down there and top up if necessary. You will find the recommended tire pressures in the Owners Manual, often on the compliance plate of the vehicle, or best of all, from the specific tire manufacturer themself. Just check out their website. Any importantly, check the spare wheel as well. You don't what to get a flat tire only to find that your spare is flat too, or worse, not even there!
Make your Battery Positive (and Negative)
Firstly a word of warning – the battery is potentially dangerous so don't go near it if you don't feel comfortable. But if you are then you can check the fluid levels, check the charge of the battery and ensure the clamps on the terminals are tight. But if you have a local battery specialist then take your car there as they will be able to comprehensively test your battery usually free of charge (no pun intended!).
Tint Me Baby
Window tinting has two benefits – not only will it make you car look more "sick", it will also improve the driving conditions inside for you by keeping it cooler in hot sunny weather. This is also good for your leather seats. Good quality window tinting is not as expensive as it sounds and make sure your supplier/installer provides your with a lifetime guarantee.
Wipe my Windscreen
You don't want to be driving during rain, go to turn on your windscreen wipers for the first time and find that the rubber is so worn that they don't work. This is a very dangerous situation to be in. So check the rubber of your windscreen wipers. If there is any cracking or they look worn then replace them immediately. They are relatively inexpensive for the important purpose they serve. New wiper blades ca be tricky to install so take your car to your local auto shop (are you starting to see how important those dudes are?) and they will probably change them for you and not charge you labour. After all of the other products you have just bought from them then this is the least they can do for you, right!
So there you have it. A few simple measures that, if done right away, will bring your car almost back to showroom condition. Apart from increasing your enjoyment and safety, it will also protect your investment and give you the best chance of getting top dollar for your car when you come to sell it. So spend some time, effort and a bit of money this weekend and give your car back some love it deserves.