By: Gov Auctions | 20 October 2015
How to Prepare Your Used Car for an Auction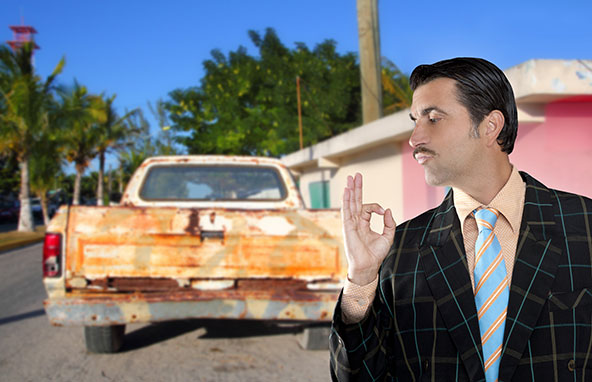 The best strategy for getting a good price on your car at an auction is to think like a potential buyer. Most buyers are looking for a new car experience at a used car price, so the closer you can bring your car back to showroom condition, the more they'll be willing to pay. Follow these guidelines and your car should be the most popular vehicle come auction day.
Get their attention
It sounds obvious, but cleaning your car is the first step to getting a good price. You'll never see a dirty car in a used car sales yard because professionals know that clean cars not only attract attention but will also help to convince buyers that they're buying a well maintained vehicle. Clean, wax, polish, do everything you can to make sure your car is sparkling when it's presented to buyers.
Pay attention to details
Consider having your car detailed to get it up to showroom condition, as even used car buyers still want that new car look. Small dents and stone chips will detract from getting top price for your car, so if that's the only body damage that exists then it's well worth having it removed. Detailing can also eliminate cigarette smells and other lingering odours, replacing them with that 'new car smell' that so many people love.
Appeal to the masses
The more people who want your car, the more bidders you'll have to push up the price. Remove any personal items from the vehicle. You may think that your fluffy dice and Playboy seat covers look great, but they can deter some buyers.
Provide driveaway confidence
To get a decent price for your car, it needs to be roadworthy. Buyers like to know that they can confidently drive away with the car immediately after the sale. Start by preparing your vehicle as if you were preparing it for a preregistration mechanical inspection, in fact having a recent mechanical report is likely to make your car appear more valuable to potential buyers.
Is it worth repairing?
Once your car is roadworthy, deciding what to fix depends on the age and overall value of your car. Major repairs can make buyers suspicious and may not be cost effective for you, while relatively small investments like fixing a broken window winder or polishing the headlights may later pay greater dividends. Get quotes for any outstanding repairs, including sourcing parts from wreckers and weigh up what's worth repairing.
Document your love
Used car buyers love seeing that a car has an up-to-date service record. If you don't have one, ask your mechanic for details on the work they've done on the car while you've owned it. Compile a tidy folder of these receipts for potential buyers.
Let them bid with confidence
Get a vehicle history check for your car and have it available for potential bidders.
Prove your love isn't just skin deep
It's worth cleaning under the bonnet, too. Once buyers are interested enough to look under the bonnet you don't want to disappoint them with a dirty engine head. While a spotlessly clean engine may arouse suspicion, a quick cleanup is usually enough to show buyers that you care about your car.
Have a realistic price in mind
Smart buyers do their research before buying a car, so you should also research the market before establishing a starting price. Even if it is your pride and joy, an overpriced car is unlikely to sell quickly. On the other hand, if you underprice your car then buyers are going to wonder what is wrong with it and will look elsewhere or try to bargain for an even lower price.
A realistic price should be based on the current market, the popularity of the make and model of your car, and its age and condition. Private sellers usually add an extra 5 -10% to their advertised prices to allow for negotiation, so factor this in when arriving at a value that you're happy with.
Prepare for the auction
Get rid of any smells by having your car detailed or deodorized two weeks before putting it on the market. Be sure to remove the deodorizer before buyers view the car,
Change the oil at least two weeks before you put the car up for auction. Most buyers will check the oil before they make a bid, but if you change it at the last minute it'll look suspiciously clean.
Last minute touch ups
Clean out all the personal items from your car and remove any accessories that you don't intend to sell with the car, such as towbars, child restraints, and roof racks
Top up the radiator and windscreen cleaner washer reservoir to their recommended levels
Inflate the tyres to their correct pressure
Check over the vehicle again, making sure that you've cleaned it thoroughly and taking care to remove any polish residue.